8 September 2016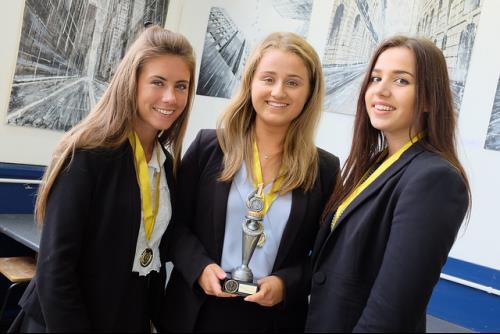 In 2016 Wrexham University, in conjunction with the North Wales Business School, launched a nationwide competition to find the UK's Young Business Brain. This is an enterprise competition that seeks to improve employability skills for Sixth Form students, centred on the creation of a business idea connected to adventure-tourism in Wales. Students were required to consider accounting, business planning, events management, human resources, marketing, law, market research and operations management when putting forward their proposal.
KGS entered three teams and two were placed first and second in their regional heats, thus continuing to compete against other winning teams from the heats from North Wales, the North West and the Midlands. In the final pitch it was the Kirkham winning team of Carla, Chloe and Grace who most impressed the panel of judges.
Chris Jones, Head of the North Wales Business School, said, "This is the first year of Young Business Brain and we have seen an overwhelming amount of young talent from across the region. The final was a very close decision and we would like to congratulate everyone who entered, but wanted to express particular congratulations to Carla, Chloe and Grace; their winning pitch was innovative, confident and really sought to embrace the modern Welsh culture."
Here at KGS we believe that the business world is a great place to be. We hope that through competitions such as the UK's Young Business Brain, young people are inspired to follow a career in the industry.