8 September 2016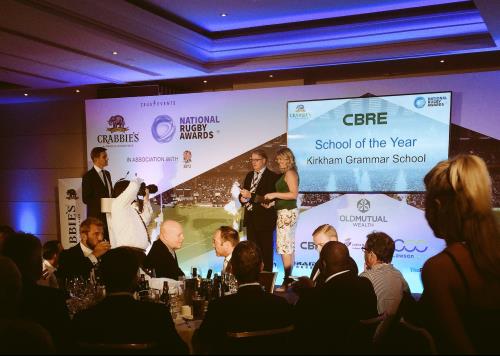 Kirkham Grammar School achieved a major honour in school rugby by winning 'School of the Year' at the Crabbies National Rugby Awards recently at Twickenham. They achieved the award due to their outstanding results and recurring victories over a period of years. These included wins over top rugby schools such as Tonbridge School, Abingdon, Denstone College and Sedbergh School as well as numerous victories in high class sevens competitions.
The awards evening was attended by a number of former and current internationals including Chris Robshaw, James Haskell, Danny Care and Andy Goode. Four of the silver medal winning Olympic Sevens Squad also attended one of whom was Kirkham`s former pupil and star of the Tournament, Dan Bibby.
Bibby will be returning to Kirkham later this month, as the 1st XV start their Daily Mail Schools Trophy campaign, to pass on his memories of his time at the Olympics and to help with training.