1 December 2021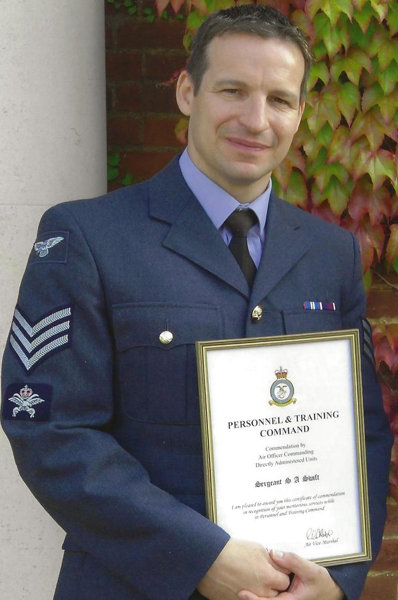 The school has had a strong association with the Armed Forces for many years and much of this is thanks to the Combined Cadet Force which was set up in the 1960s. On the Facebook group I asked if anyone had any stories of how KGS CCF inspired them to 'sign up' later in life or if they had carried on emulating their childhood heroes in similar roles as teacher/officer. To begin, here are a couple from two girls who followed the latter:
Louise Wareing (nee Green) (1986-1993)
I left the CCF in 1993 as a Sergeant. I loved the CCF and have great memories of treks across Darwen Moor and camps at Cultybraggan and Catterick. I wasn't brave enough to join the real Army but the leadership skills I learnt in the CCF certainly helped in my teaching career. In 2019, after joining LRGS, I took the plunge and volunteered to help out with their CCF. I soon found myself on Basic training at Frimley and am enjoying every minute of being an Officer in the CCF here, it was obviously lurking in me all those years!
Katherine McDiarmid (1979-1984)
When given the choice between Army and RAF there was no way that I was going to do the physical Army stuff so chose RAF, this led to my love of flying. Best memory of CCF was flying from Woodvale in a Chipmunk over the Grand National course. Unfortunately at the time the RAF didn't accept female pilots so I wasn't able to follow that path. Many years later, working in education, my All Girls' School was given the option to join up the CCF unit at our equivalent All Boys' School. Having had the Cadet experience and knowing what being a girl in an All Boys' School was like I happily volunteered to be the adult representative. Officer training at Cranwell followed and at the moment I swapped my white tabs and hat band for my officer insignia I burst into tears of joy - it meant so much to finally have achieved, in some small part, my dream. We now have a thriving female element to the Contingent with over half of our current Year 9's attending; two cadets have gone to Cambridge University; we have had a Lord Lieutenants Cadet and a current strong group of NCOs. I am proud to be supporting their cadet experience and it would not have happened with KGS cadets all those years ago.
Many have gone on to join the RAF:
Heather Burns (KGS 1986 -1993) – I was a Supply Officer in the RAF for 6 years which was amazing but was an Army Cadet at school as there was less marching and more adventurous activities.
Becky O'Shea (KGS 1986-91) – I spent 14 years in the RAF. They sponsored me through university to get my nursing degree. Giving me a second chance at getting an education after mucking things up at school. Will always feel grateful for the opportunities offered and the life it gave to me and my son Ted. The huge financial support of the RAF BSA also allowed Ted to attend KGS as a boarder which made me so happy. Loved cadets but used to look out of the window wishing I'd joined the Army cadets who seemed to be doing much more fun activities outside.
Steve Swift (KGS 1978 -1985 - pictured at the top of the page) – 22 years in the RAF. I wanted to be a pilot so joined the RAF contingent. Failed the aptitude test but found I liked teaching physical activities more than being in a classroom. Fred agreed I could change to the Army but would lose my rank. Loved my final year in the Army contingent but still joined the RAF as a Physical Training Instructor – best job in the Forces! Interesting anecdote, as a recruit instructor I taught someone I knew from School House and Doc Hall's son!
Others were not as successful.
Brian Walters (KGS 1955-1962) – I remember being required to volunteer for CCF. I didn't like the Army cadets; boots, gaiters, ringing ears and bruised shoulders after the firing range. I couldn't wait to get into the Air Force cadets. I enjoyed the lessons in aeronautics and loved flying in Chipmunks with ex-Fighter pilots who loved throwing those little aircraft all over the sky. I even got to take the controls and fly a couple of times and on one occasion, I managed to 'loop the loop'. I applied for and was offered a place at Cranwell but because my eyesight wasn't 100% I couldn't train for aircrew so abandoned the idea of joining the RAF.
Steve Hudson (KGS 1971-1978) – I had aspirations of a military career from an early age and the CCF reinforced that ambition. Like many I wanted to fly, but juvenile asthma put paid to that idea. I had gone to Biggin Hill to have a 'test in advance' which was basically the first part of officer selection, comprising aptitude testing, medical and an interview. I did apply for entry whilst still at school and was told to come back in a year, which in hindsight was the correct decision. Had I passed Biggin Hill, I doubt that I would have taken any (as opposed to limited, sorry Ian Scott!) interest in my A-Levels. As it turned out I joined the TA and re-applied to join the RAF, joining as an Officer cadet in July 1979, commissioned in the Supply Branch in Nov 1979. The CCF really assisted in getting an appreciation of the Forces and of course the camps at places like Sennybridge, Jurby, Cranwell and Linton on Ouse.
Many others joined the Forces. Alongside myself serving in the Royal Engineers, I have come across many other Old Kirkhamians, to name a few; Ash Brown (nee Gregory), James Holmes, Charlie O'Flaherty, Simon Morgan, John Boyle and Lewis Russell.
Others that have chosen the Army as a career are, to name a few; Nick Bridges, Toby Townsend, Tom Russell, David Rees and Charlie Bradbury.
Two fairly recent leavers are in the process of joining the Army. Sam Minten (KGS 2011-2018) and Oscar Cornah-Burrows (KGS 2011-2016) are both going to be Officers in the Infantry. They both have been heavily influenced by their time in CCF and we look forward to reading about their successful careers in 30 years!
I will continue with this article in later newsletters with personal profiles of members of the Royal Navy, Royal Air Force and the British Army.