23 October 2020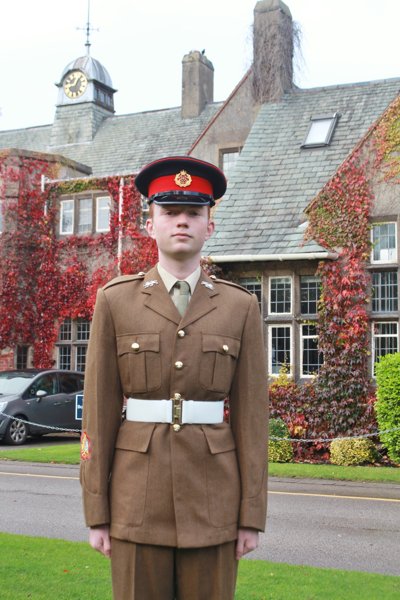 Congratulations to Upper Sixth student, Reuben Bond, who has been awarded the Lord-Lieutenants' Cadet for this year and will accompany the Lord-Lieutenant of Lancashire to all of his formal events.
Fellow Upper Sixth student, Charlotte Cross was awarded the Lord-Lieutenants' Certificate of Meritorious Service for Cadets.
A fantastic achievement, Reuben and Charlotte. Well done to you both.
Reuben Bond
Sgt Reuben Bond became a member of KGS Combined Cadet Force in September 2015 and has made amazing progress, proving himself to be valuable, knowledgeable and an excellent instructor, a rare quality for someone so young. The Junior Cadets thrive under Rueben's leadership and he works desperately hard to think of new and imaginative ideas to make his instructional periods "different and enjoyable".
Reuben has attended the Senior Cadet Instructor Cadre, and was awarded "Best Student", this award is not usually awarded to CCF students due to their limited training time, a reflection on the amount of hard work and effort he put in. He was awarded the "Most Promising NCO" on summer camp 2019, justified reward for his tremendous effort and leadership qualities which he had shown continuously all year. A naturally excellent shot, Rueben has competed in the Cadet Skill at Arms meeting where despite, stiff opposition has been placed on each occasion.
Rueben's school life is as demanding as his Cadet life, he achieved amazing academic results, being awarded "The most Worshipful Draper's Company Medal" for best GCSE results in school. An accomplished musician, he is part of the school band, swing band, choir and barber shop quartet – and managed to find the time to teach himself guitar! Having achieved his DofE bronze and silver, he is working to complete his gold this year. In his spare school time, he acts as a mentor to a second-year form.
Outside school Rueben dedicates time to scouts, he is currently a Chief Scout and is on track to complete "The Queens Scout Award" and was awarded the "Commissioner's Commendation" for delivering lifesaving first aid to a lady involved in a serious accident. He has also represented the area at the World Scout Jamboree in West Virginia, only one of four from the area.
He volunteers for the Salvation Army which focuses on helping the homeless and is part of the group which offers free music lessons for children living in deprived areas. He has been on a fund-raising mission since 2016, raising as much money as possible for Trinity Hospice due to the assistance they offered during his father's illness.
Reuben deserves this opportunity as he is an incredible inspiration to the younger members of the Contingent and the wider community. He never fails to surprise us with his work ethic, dedication and selfless approach to everything he does.
Charlotte Cross
Cpl Cross joined Kirkham Grammar School Combined Cadet Force in September 2017. She has completed APC Basic and Advanced and was promoted to LCpl in July 2018. She has attended the Cadet Skill at Arms Meeting (CSAAM) at Altcar and Summer Camps and is a committed member of the contingent. Cpl Cross is one of the most popular members of the CCF.
Outside of school she volunteers at scouts and explorer scouts, showing her willingness to help others. She is a member of a choir and a concert band as well as playing tennis and hockey.
Cpl Cross is a natural leader, her turn-out and bearing are of the highest standards and she actively assists others in achieving the same standards. Over the whole week of summer camp in 2019 she displayed the qualities of an NCO that any regular soldier would be proud of. She showed courage, discipline, stamina, excellent communication and quick thinking in order to achieve all of the goals that were set out for her section. This was not an easy task as some of the members of her section were her peers, but she showed a natural ability to lead by example and balance that with listening to others when it was necessary. At the end of the week at Summer Camp even the Cadet Training Team commented on how she would not look out of place as an NCO in a regular infantry battalion. After summer camp she was deservingly awarded the trophy for Best 5th Year on Camp and naturally promoted to Cpl. She has carried this attitude and ability over into the rest of the year and is an excellent role model for the junior cadets and is a shining example of a Cadet NCO.