12 February 2019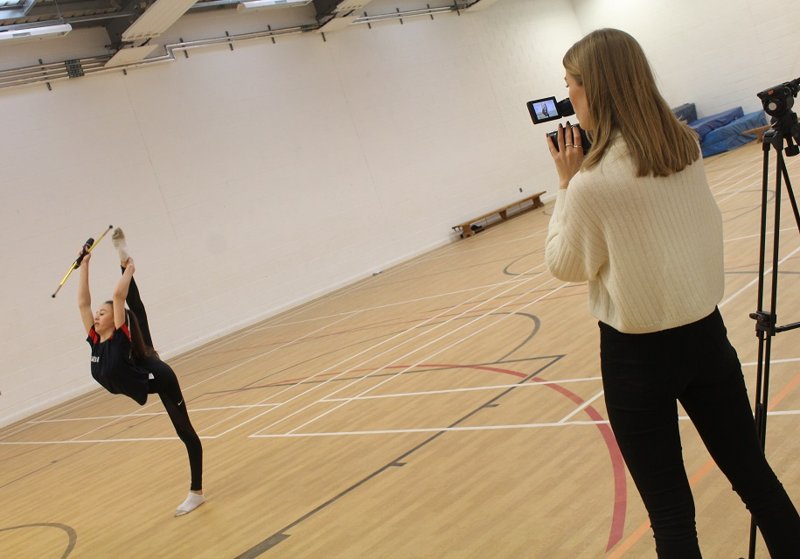 Fourth Year pupil, Isabella , has held a place on the GB individual squad for five years and is an individual British and English gold medallist, and also a British Group Champion medallist. She has recently been selected as part of a group for the GB Group Squad.
Today, That's Lancashire TV came into school to interview Isabella and find out more about her gymnastics dream! The interview will be on air this evening on Freeview Channel 7 and also available on our KGS Facebook page.
The squad camps are a great opportunity for Isabella and the team to train and collaborate together as they are restricted with the time they can spend in the gym during school term and due to the distance between the team. The squad training camps are intense and comprise of eight hour days with a two hour break for lunch.
The six rhythmic gymnasts are the current reigning Junior British Champions. Towards the end of last year they recruited extra gymnasts from clubs nationwide with the aim to represent Great Britain at the 2019 European Championships. It will be the first time the County has been represented at this competition in over twenty years. Isabella's team comprises of six gymnasts from Blackpool, Preston, Manchester and London. They train upwards of twenty five hours per week, six days a week after school and every weekend, logistically this is problematic due to the distance between them, however despite the difficulties this represents, with the support of our parents and coaches, they have found a way to make this happen. Isabella and the other team members have suspended their individual careers to focus on training together as a group, and have just received the fantastic news that they are one of two groups selected for the GB Group Squad. Which brings them one step nearer to achieving their dream. Unfortunately no funding is available to them so all associated costs need to be met by our parents. National and local training costs are in excess of £15000 per annum and transportation costs will be in excess of £7000. They are hopeful of selection but if they receive positive news their costs are set to rise exponentially, to include flights, accommodation, apparatus, leotards, tracksuits etc. Any help that could be offered to them would be gratefully appreciated in their quest to pursue their goal.