30 November 2016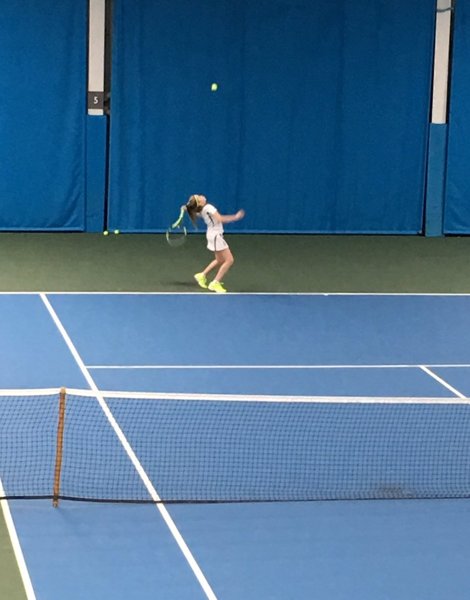 Kirkham Grammar School Girls Tennis team are to be congratulated for coming runners up in the Regional Tennis Finals in Sunderland on Thursday 17 November.
KGS qualified for the Regional Finals which meant they were one of 16 schools throughout Great Britain remaining in the competition. This is a fantastic achievement in itself as over 1200 schools entered the competition back in May. Four regional competitions were being held at different locations across the country to determine which schools would represent North, South, East and West at the national finals in December. KGS were trying to win a place to represent the North. On paper, KGS were the underdogs at this competition based on individual tennis ratings of players. However, this didn't deter the team. Kirkham were drawn to play Durham School for Girls in the morning. The result of this match would determine whether they would play for 1st or 2nd place in the afternoon match or 3rd/4th place.
The singles matches were closely fought but every player worked hard to the final point. Puneet Mathauda and Hannah Mears beat their opponents 6-0 and 6-4 respectively. Ella McDonald and Lucie Ethell had long sets, forcing their opponents to work hard. Lucie came back from 4-0 down to lose eventually 6-4, but I lost count of the number of deuces and advantages every game went to. Ella equally, despite being the youngest player in the competition showed tremendous grit and determination against an older, more experienced and higher ranked player. She again took games to deuce almost breaking her opponents' serve but eventually losing 6-4. Before the doubles games it was 2-2. KGS needed to win both doubles games if they were to win overall.
Enthralling tennis followed. Ella and Lucie and Puneet and Hannah showed what they were made of. They found the space on court to make passing shots and were strong at the net, finishing points with power and precision. They won both doubles sets 7-5 and 6-3 respectively.
This was a tremendous achievement. They were now in the final 8 of this prestigious national competition and against the odds were playing for a place in the National Finals! Beaconhurst School from Scotland were the highest seeded team on the day. Kirkham knew they were up against it. Nerves got the better of one or two players but once again, KGS fought hard for every point. Hannah Lewthwaite was substituted in for Lucie Ethell who had suffered with recent illness but her encouragement for the team didn't stop despite supporting from the sideline. Ella put up a great fight taking just under an hour before she succumbed to a 6-3 set. However, Beaconhurst proved one step too far for the Kirkham team. They won both doubles games too meaning KGS were proud, albeit exhausted runners up. This was such a great finish to the season. A huge well done to all the girls!
Lucie Ethell (Capt)
Puneet Mathauda
Ella McDonald
Hannah Mears
Hannah Lewthwaite