10 October 2016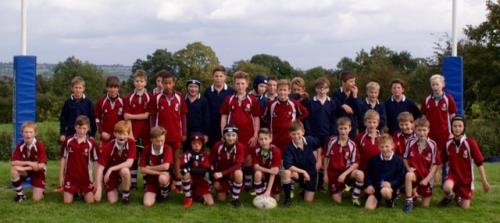 1st XV v Denstone College 1st XV
WON 55-0
KGS 1st XV were faced with usually top opposition from the midlands Denstone College. Denstone had a recent good win over Kings Macclesfield and came to Kirkham with confidence. However Kirkham were in no mood to lose a home game and started fast. Captain Aaron Reed scored the opening try after Denstone missed touch and KGS counter attacked brilliantly. From then on KGS realised they could move the ball in space at will and this would cause Denstone problems , fly half Kieran Wilkinson did this all game and many of the backs benefited from the ball moving around . Vice-captain Henry Pearson grabbed 2 tries and Full Back Nathan Pope also got it on the act. Constant pressure by Kirkham made Denstone make further mistakes and no.8 Sam Dugdale scored just after half time. Captain Arron Reed finished things off with another try and gave KGS 1ST XV a 55-0 win.
2nd XV v Denstone College 2nd XV
WON 69-0
The 2nd XV continued where they left off from last Saturday by tearing into Denstone from the start, in fact it only took the prolific Andrew Bullman three minutes before he crossed for a well worked try. Leon Simpson at full back always looked threatening and Alex Mayhall on the other wing was assured in defence. Kirkham went over for two more quick tries through James Allum and prop Alex Lewis-Booth which demoralised Denstone, as Dewhurst added the extra points. As ever the Kirkham line out, with the deadly accurate throwing of Oliver Billington, functioned very well which allowed the backs some good ball and freedom to run. Bullman went over for four more tries of his own to bring his tally to five as Kirkham put the game to bed before half time.
The second half saw Denstone bravely try and repel wave after wave of attacks from Kirkham but, with a man down for a while, this proved almost impossible as Harley Dewhurst gathered his own chip to race away for a fine individual effort and Billington himself scoring his first try for the 2nd XV. The replacements for Kirkham, as usual, made a significant impact with Cameron Wheeler surging over after he came on to replace Bullman. This was a fine display from Kirkham as they look forward to tougher matches ahead.
U15 v Denstone College U15
LOST 42-7
The U15s made a fantastic start to the game with Oliver Mills beating two defenders on the wing to run a try in from fifty metres. Denstone then woke up and scored five unanswered tries before half time. Denstone kept the ball alive out of the tackle and The Kirkham defence struggled to stop their momentum. In the second half Kirkham worked hard to make it as difficult as possible for Denstone and as a result Denstone only managed three more tries. A strong Denstone side that should go far in the cup national cup.
U14A v Denstone College U14A
WON 75-0
The U14 'A' played well in a large victory against Denstone. KGS dominated from the kick off with Harvey Berry running the full length of the pitch. In truth KGS dominated the rest of the game. It was however pleasing to see Will Bloomfield and Oliver Earnshaw make their 'A' team debuts. KGS had several players missing in this game and it was good to see squad players take their opportunity.
U13A v Denstone College U13A
Won 30-20
Kirkham started brightly after the journey to Denstone, with the team looking to use the ball with the backs as often as possible. Within 2 minutes the visitors had opened the scoring with a great break from Jake Merrick leading to a two on one, with Parkinson finishing the try. Denstone responded quickly with a break down the left side, and after a series of strong runs from their forwards, the scores were brought level. Kirkham maintained their composure and created several chances, which eventually brought the second try of Kirkham's day, finishing the half 5 points ahead.
The second half continued to provide an entertaining spectacle for the spectators, with both sides competing well at the breakdown in particular. Charles McNamee and Ethan Crompton managed the pace of the game well and Kirkham were able to score 2 further tries down the right wing; the latter being the result of a well-timed tackle from Tom Gut forcing the turnover. Denstone were very much in the game and managed to deliver two well worked tries of their own after a series of pick and goes from the forward pack. As the game progressed, Kirkham began to dominate and their fitness work was visible in the latter stages. The visitors finished strongly with further tries and completed the game ahead by 10 points. A well-deserved victory in a good game, in which both sides played some excellent rugby.
U12A v Denstone College U12A
LOST 30-20
The U12A started strongly and moved the ball well to score out wide with Archie Dowds in the first few minutes. However, Denstone were a well drilled and strong team who replied with a couple of tries due to a weak Kirkham defence. Kirkham also had a couple of injuries which weakened the pack but they came back in the second half after a good attacking move led by the Captain Charlie Read and finished again by Archie Dowds. Overall, it was a positive performance away against Denstone and I am sure the boys will continue to work hard to develop their game.
U12B v Denstone College U12B
WON 25-10