5 October 2016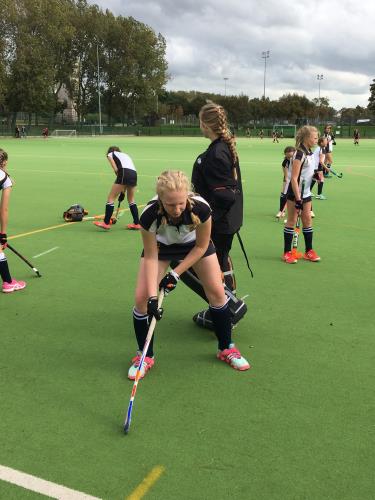 KGS' U14 team travelled to Stanley Park on Tuesday to compete in the first round of the England Hockey National competition.
They met Lytham High in the first round. The girls meant business from the start and fought hard to press the ball resulting on constant pressure being applied to the Lytham goal. A great run around the back of the Lytham defence resulted in a great goal from U12 player Bo Madden. Lucy Treadell worked hard in midfield resulting in her winning and converting at a short corner to leave the final score at 2-0.
Next up were Baines, KGS certainly had their foot firmly on the peddle as shot after shot flew past the keeper. Lucy Treadell scored a hat full as well as U12 player Hattie Madden also getting on the scoresheet! The goals just kept coming leaving the final score at 11-0.
Rossall came next. Beth Dowbiggin worked hard down the left hand side of the pitch linking up well with Captain Anna Wilkinson and Darcey Lonsdale. The goals soon started to come with great runs from Lizzie Coulston and Hannah Doyle. The final score saw KGS come away with another win 2-0.
With two games left it was clear that it was ours for the taking so long as the girls maintained their form and continued to play with composure and confidence.
Against AKS the KGS girls worked hard from the first whistle playing the ball wide to make dynamic runs around the back of the AKS defence. A great ball through from Anna Wilkinson set Lizzie Coulston through on goal. Lizzie calmly took on the GK to slot the ball home to take the game at 1-0.
The final game was against Stonyhurst college. Only a draw was required to lead the girls through to the Regional Finals in November. With some very tired legs the girls continued to battle on! A great through ball allowed Bo Madden to convert only for the goal to be disallowed and a corner given. KGS didn't give up and made excellent runs through the midfield allowing for several shots on goal.
The final score was 0-0. Not a goal conceded all day and a place in the regional finals most definitely secured.
An outstanding all round performance from a very talented squad of players!