15 January 2019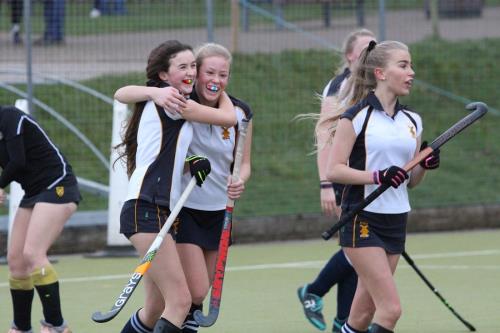 Hockey v Stockport Grammar School
U15 won 5-1
The U15s were a little rusty to start with after the holidays. However, as the game progressed, KGS started to find their shape and battled well in this end to end game. Abi Johnson scored a great goal only to miss out because a short corner had been blown. Stockport responded and scored to put them 1-0 up. The Kirkham girls responded superbly, becoming stronger as the game progressed. Goals from Emma Savidge, Hattie Ross and a brilliant hat-trick from Charlotte Fuller gave Kirkham a well-deserved 5-1 victory.
U14 vs Stockport Grammar School U14
0-0 Draw
Kirkham began with a great deal of attacking play - they were in possession of the ball and created a good opportunity through a short corner. Unfortunately a talented Stockport goal keeper made a great save and prevent Kirkham from taking the lead.
Half time arrived and it was still 0-0 with Kirkham understanding the importance of working the ball around the keeper in order to gain the lead.
Throughout the second half the match seemed to be very similar: Kirkham attacked, moved the ball well, had a lot of possession and shots on goal, however, Stockport managed to defend well and the final score was 0-0.
U13
The U13s were defeated 4-1 by Stockport Grammar in a game that was much closer than the score suggested. Having had no chance to train, due to the poor weather, the KGS girls were playing their first hockey since before Christmas. Unfortunately, this showed in the first half as they struggled to keep the ball and left Stockport players unmarked in attacking areas. KGS fell behind from a Stockport short corner which Claudia Alisson (stepping up from the U12s) was unlucky not to save.
KGS rallied in the second half and started to attack with more confidence. Hennie Thompson set up Rachel Watson who managed to force the ball past the Stockport keeper and equalise. Just as KGS looked to have their tails up, Stockport rallied and with a little help from the KGS defence they added a further 3 goals in the second half. The loss was probably a fair reflection of the game but KGS will feel that the score could have been a lot closer if they'd taken their chances and defended better as a team.
U12
The U12A team continued their winning ways with a great 5-0 victory over Stockport Grammar School. Excellent build up play from the solid defence resulted in multiple chances on goal for forwards Alexa Anderson, Frankie Margerison, Eva Berry and Grace Tomlinson.
Anderson hit home first after Georgia Nichols set her through on goal. Lilly Jones, Grace Livesey and Mia Carmichael made excellent tackles in defence and also took attacking chances well. Chloe Mustow had little to do in goal but made some excellent saves when it mattered. A well-deserved victory!
KGS will take on The Grange School, Hartford at home next week whilst the seniors travel to Stockport Grammar.
U17s v Hutton
KGS under 17s travelled to local rivals Hutton to play the first of a number of development games. In difficult conditions Kirkham started well and kept the ball alive which stopped the home side from settling. Fly Half Finn Gordon played with control and made sure his forwards and backs combined well together. Eventually, Kirkham opened the scoring after a number of good off loads allowing prop Joe Higgins to cross the try line. This was quickly followed by tries from Finn Gordon, Max Bailey and Haydn Benge. No.8 Elliot Simcock playing in that position for the first time showed up prominently with contributions also coming from fellow back rowers Oli Mills and Callum McGaughey. Kirkham maintained their control on the game throughout and even with a number of changes made continued to pile on the points with tries coming from centre Adam Spence and winger Nathan Page. Hutton had no answer to the pace that Kirkham played with and KGS ran out 39-0 winners.
KGJS Rugby Report
On Saturday 12th January, Kirkham Grammar Junior School hosted Preston Grasshoppers u11s.
Conditions were excellent and both sides produced some excellent rugby. At half time the score was 0-0 with both teams defending well.
In the second half the game started to open up and Hoppers scored two tries to go 10-0 up. Kirkham responded well and reduced the deficit to 10-5 and could have scored another but Hoppers continued to tackle very well and held on to their 10-5 victory. Congratulations to Hoppers in what was a very enjoyable game of rugby.