17 October 2016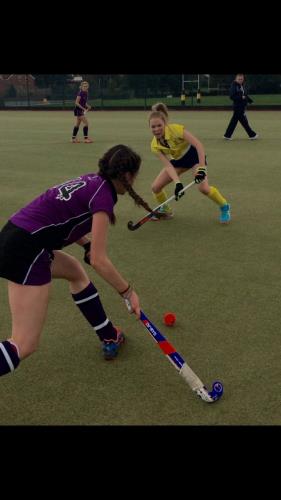 Saturday 15th October 2016
U15Xl V WAKEFIELD
Lost 1-0
The U15s battled from the onset and had to defend for much of the first half. Once again they were disciplined and showed real grit and determination. We were happy with 0-0 at half time and in the second half we were ready to step up a gear.
In the second half the game was end to end. The Kirkham girls suddenly started to take shape all over the pitch and every player worked tirelessly.
It was so disheartening to concede with 20 seconds to go. And to lose the game 1-0.
However so many positives to take from this performance! The U15's are certainly getting stronger every week. The Kirkham girls now look forward to going to Holland on a junior tour.
U14 vs Wakefield
The KGS U14s secured a credible 0-0 draw against a Wakefield team made up predominantly of U15s. In the first half KGS played on the front foot with Lizzie Coulston providing a constant attacking threat down the right hand side. Caity Preddy and Lily Butcher linked up well on the left to ensure that possession was retained and further attacks could be launched. Darcey Lonsdale, Anna Wilkinson and Lucy Treaddell distributed the ball well to the wide players but KGS just couldn't find the breakthrough goal.
In the second half, a change in shape for Wakefield caused a few problems for the KGS defence and Wakefield's attackers managed to find more and more space in the attacking third of the pitch. But resolute defending from the KGS girls, Jemima Towers in particular, kept Wakefield at bay. Mia Brennand saved well from a Wakefield short corner in the final few minutes and KGS held their nerve to leave the final score at 0-0.
Another good defensive display from the U14s, who are becoming increasingly hard to beat, which bodes well for the next round of the National Hockey competition after half term.
U12 v Wakefield
The U12 A and B teams had another successful Saturday morning against a strong Wakefield side.
The A team meant business from the start creating havoc up front with Bo and Hattie Madden attacking the defence with great support from Arabella Bowker. It wasn't long before they converted their first goal from open play. The team grew in confidence during the first half with another three goals being converted from Bo and Hattie Madden.
In the second half Danny and Amy Merrick dominated in defence playing some great balls through Natasha Hartley-Smith and Talia Armstead resulting in another goal taking the score to 5-0. The KGS side still wasn't finished! A great through ball from Poppy Kearsley resulted in the final goal leaving the score at 6-0. Despite dominating the game GK Darcey Clough made some excellent saves to keep a clean sheet. The B team followed suit and created some great opportunities up front. Eve Gooderham was solid in defence as was Anya Baxter. Great runs from Ella McDonald and Hollie John resulted in a penalty corner being awarded which was slotted home by Eve Gooderham. Eliza Booth moved the ball well to create space for Madison Gallagher to run into to win yet another short corner. Eve Gooderham, once again, converted to take the score to 2-0. In the later stages of the game Madison Gallagher made an excellent run to convert the third and final goal leaving the final score at 3-0 to KGS. A great all-round performance from our U12s.
U13 X1 v Wakefield
Lost 2-1
This was a match of two halves. In the first half KGS were caught off guard by the speed of the Wakefield side. In the second half, they stepped up their game and started to look dangerous in attack.
KGS U13 hockey team had another shaky start to this week's game against Wakefield. Some players were once again slow to respond when possession went from attack to defence and when KGS were under pressure in their defending 25, players didn't mark Wakefield forwards leaving us vulnerable. (However, this is an area of the game that comes with experience and practise and I'm sure will improve.) In the first half therefore, Wakefield dominated play. They made one attacking move after another. KGS defence worked incredibly hard, particularly Libby Baxter at CD, Izzy Kane as Sweeper, Georgina Chaffe at LD and Maddie Chaya at RD. Beth Dowbiggin saved two straight strikes on the line from short corners but the determination of the Wakefield team paid off and they scored towards the end of the first half.
In the second half, KGS played with greater discipline. Despite going 2-0 down early in the second half, this didn't dampen KGS spirit. They covered the pitch better by staying in their channels, closed the Wakefield forwards down earlier, stopping their dominance going forward and set up some great attacking moves of their own. Through KGS passing the ball more accurately and keeping possession this culminated in them having several shots on goal. Their patience and determination eventually paid off when Aggie Barker Mills slotted away a goal after a straight strike by Beth at a short corner.
Wakefield were a very strong team and have prepared the girls for what to expect when they play Dutch and Belgium teams on hockey tour next week.