16 November 2021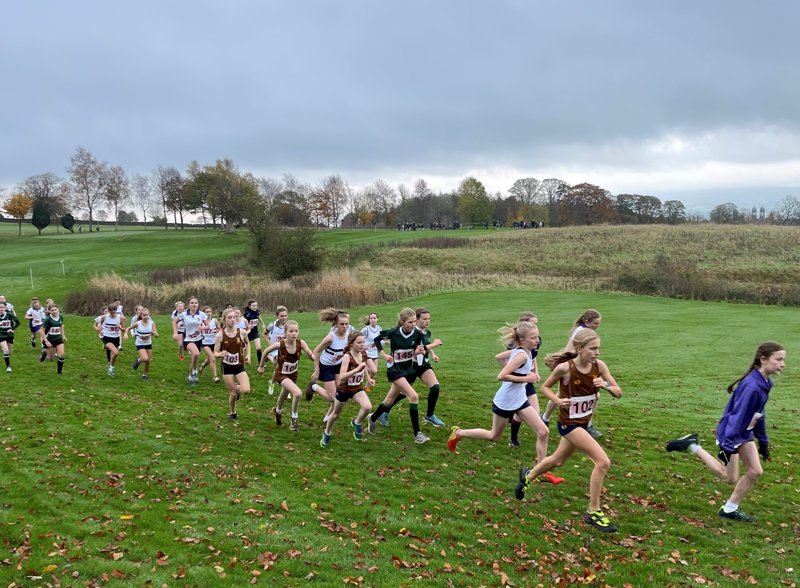 KGS Weekly Sports Reports
Cross Country
The U13 girls' cross country team travelled to St Mary's Hall on Thursday for their annual invitational cross country event. The course was wet under foot and tough for all runners. The KGS U13 squad ran hard from the start gaining very good ground in the first stages of the race. After the first half lap, Aimee Harling led the way for KGS in overall 2nd place closely followed by Xara Lewis. During the final large lap, Aimee Harling held her position with a very strong finish into the tunnel. Xara Lewis ran home in 7th place followed closely by team mates Emilia Simpson, Issy Gutt, Hermione Edwards, Zara Gilchrist and Hollie Bailey. A strong team finish meant the team finished in overall second position. Well done to all runners!
Hockey Reports
1st XI v Stockport Grammar
The 1st XI travelled to Stockport Grammar School last Wednesday for a friendly game before their next tier 1 national cup games next week. The girls started well, taking control of the game and retaining possession of the ball. KGS struck early at a short corner with a top d strike from Jess Cole taking the game to 1-0. Continued pressure allowed for various attacking opportunities from Natasha Hartley-Smith and Amy Merrick. Dani Merrick and Jasmine Schofield made some great runs from the midfield allowing Agatha Barker-Mill to convert making it 2-0.
Some end to end play lead to further goals with KGS victorious at the final whistle: 3-1.
They now look forward to travelling to Trent College next Wednesday before hosting Oakham School on Friday on home turf.
KGS 2nd XI v Westholme 1st XI
KGS started the game full of fire! This continued throughout the game as the team worked hard for themselves and every other member of their team on the pitch. It was an end to end match throughout the first half, but neither team scored. KGS had a break by Martha Millar, supported by Lily Harrison, but no goal was made due to Westholme's strong defence. KGS did not give up but conceded a goal in the first half, despite all the efforts at the back working together. KGS battled through the second half. An incredible break from Masie Bailey, supported by Anushka Loggenberg, unfortunately did not result in a goal. Another goal was conceded despite the strong defence and all their efforts - resulting in a 2-nil loss.
KGS U15 v Stockport Grammar - Saturday 13.11.21
KGS has a slow start leading them to concede two goals in the first half. This was soon rectified and their game was stepped up. The game was very balanced throughout and an end to end game requiring hard work from Keira Tomes, Georgia Nicholls, Louisa Procter and Frankie Margerison in the midfield. The first half finished 2-nil to Stockport requiring some serious grit and determination from the KGS team.
The girls in the second half showed true teamwork, resulting in two incredible goals set up by Keira Tomes with a finishing touch from Eva Berry, levelling the score to 2-2. The battle continued but no further goals were scored: Final score 2-2
U14 v Stockport Grammar
The U14s battled from the first whistle. The game was physical, competitive and end to end with chances for both teams. The KGS girls played with real commitment and determination - solid in defence, strong and fast in the middle of the pitch and gutsy going forward. The final result was a 0-0 draw - a great game to watch!
U13 A v Stockport Grammar
The U13A team won 3-1 away at Stockport. After a slow start, KGS found themselves 1-0 down. The girls quickly rallied and started to put some nice moves together moving the ball quickly. First half goals from Emily Greenwood (2) and Alice Bunday gave KGS a 3-1 lead at the break.
A slight reshuffle in the second half saw Issy Gut switch to left back and Libby Sidebotham move into attack. Despite lots of strong attacking play and quick ball movement, the KGS girls couldn't add to their tally but worked hard in defence to ensure no further goals were conceded.
U13 B v Stockport Grammar
The U13B team were 4-0 winners with 2 goals from Libby Sidebotham, Darcie Daniels and Niamh Smith. Raia Trend was impressive in her first game at right back; tackling well and making good passes down the line to the forwards.
U12s
The U12s didn't have matches on Saturday due to Stockport Grammars' First Year pupils being involved in their open morning. That didn't stop the KGS girls with over 35 of them taking part in a tournament at school against each other! It was lovely to see just over half of our first year pupils playing and developing various areas of their game.