26 April 2019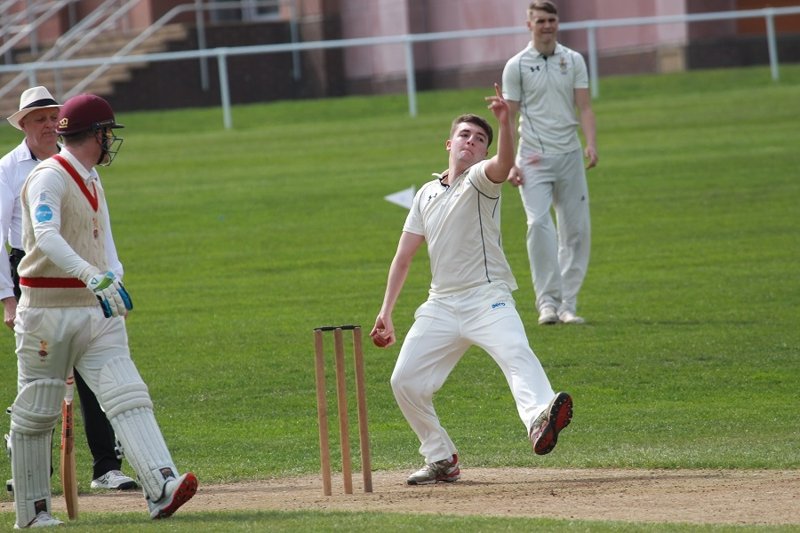 KGS v Men's Cricket 23/4
MCC 176 – 6 declared,
KIRKHAM GS 1st XI 115 – 8, DRAWN GAME.
The annual fixture against the MCC began in stark contrast to last season, where only 21 overs were possible, with bright sunshine and warm temperatures. The visitors, as is tradition, batted first on a wicket which required extreme concentration, however, Kirkham took an early wicket through Will Gregory who squared up Charlton to bowl him for 5. The MCC then dug in and a stand of 36 saw them reach 52 before the next wicket fell, Callum Doyle trapping Jackson LBW. Further wickets fell at steady intervals but Tomlinson, an old boy from Sandbach School, rarely looked in trouble as he grafted his way to an excellent 50. Greaves hung around in support for a battling 32 as the MCC declared their innings on 176-6 at 3.05pm.
The Kirkham reply, with only 30 minutes until the tea interval, started badly with the loss of Janse Van Der Ryst first ball to a delivery which kept low and matters soon became worse when Captain Nathan Wood flayed a wide delivery to mid-off leaving Kirkham reeling at 4-2. Meanwhile Fred Hackett, displaying maturity beyond his years, knuckled down, glancing and gliding his way through his innings of 37. However, he lost 3rd year pupil Louis Johnson (17), who looks an excellent prospect for the future and Joe Thompson (11). Callum Doyle stuck around for a gritty 15 runs before he was bowled by Maksinczyk. Kirkham were now 81-6 and well into the last hour of play. With no real prospect of a win, Kirkham decided to try and bat for a draw, especially as the opening bowlers were now back, Dan Smith and Harry Snape guiding Kirkham home by seeing out the last 5 overs with some determined defence.
Well done to Fred Hackett who was awarded the 'Spirit of Cricket ' cap for his fine knock of 37 v MCC.