21 March 2019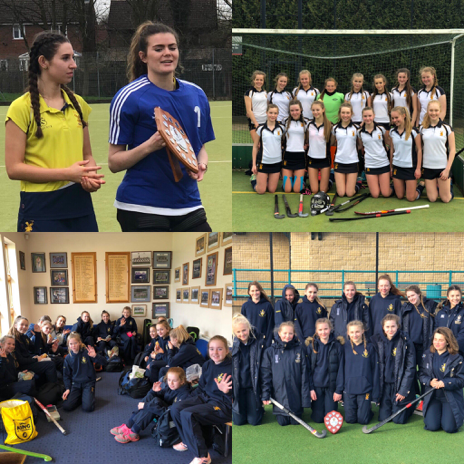 1st XI - Lancashire Tournament Winners
In the final tournament of the season, KGS hosted AKS and Stonyhurst College in the prestigious Lancashire Hockey Championships. KGS set the day off with an end to end game against Stonyhurst. Both sides had their chances and possession was equal in the first half. In the second half KGS took control but unfortunately were unable to convert leaving the final score at 0-0.
In their second game against AKS, KGS played with real determination and shut down players quickly to gain possession of the ball. A great goal from Holly put KGS on the scoreboard and that's where they stayed resulting in them being crowned Lancashire Champions with the 1-0 win.
U15 XI Lancashire Tournament Winners
The girls were ready to complete a very successful season with the annual Lancashire Tournament. They starting their bid for victory against AKS and, after a slow start, hit the AKS defence hard and put real pressure on the goal keeper. A great stroke from top D was finished at the post by Lexie . Another 2 goals finished the game off and gave KGS their first victory of the day. The squad continued their winning ways against Baines School which led them to the cross over section of groups.
In the semi-final KGS comfortably beat Ripley St. Thomas whilst AKS were victorious in the other semi-final on strokes.
KGS met AKS for the second time in the final. Once again the girls worked hard both on and off the ball which allowed them to convert two chances on goal. A 2-0 victory meant that KGS were crowned Lancashire Champions for the 2018/19 season.
This concluded a very busy and successful week for our Hockey teams. The U14, U15 and 1st XI squads having now all been crowned Lancashire Champions whilst our U12A & B squads were runners up! A fabulous end to a very impressive season!