11 November 2018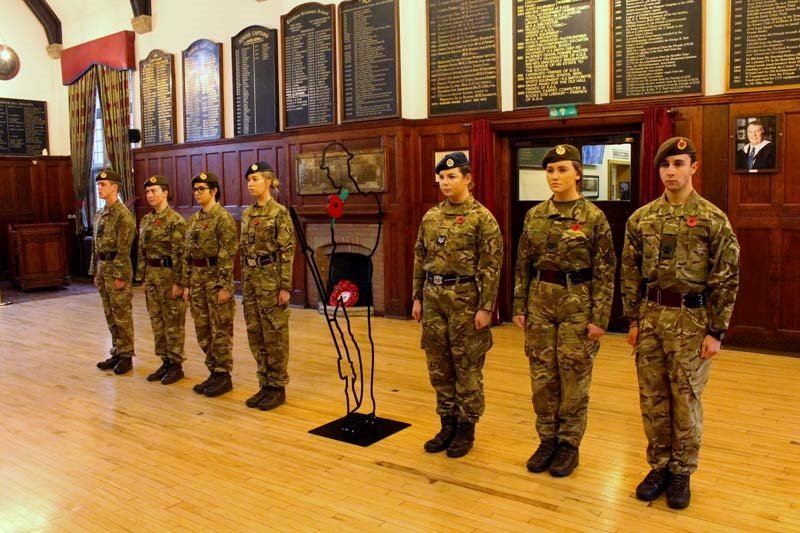 Remembrance Day services were held around the UK to commemorate 100 years since the end of World War One and to remember those who served the country in two world wars and also in the more recent conflicts. On Friday 9 November, the Senior School held their own Remembrance Day Service which was led by our Senior NCOs. During the service, School Captain Will read from the Gospel of St John and Esme beautifully performed a piece from Band of Brothers. Reverend Bunday led prayers before the whole school fell quiet for two minute's silence, followed by 'The Last Post' played by Third Year pupil, Poppy . At the end of the sevice, the platform party moved to the Old Hall to lay wreaths at the First and Second World War plaques.
Over the Remembrance weekend, KGS CCF Cadets represented school at a number of services including Guard of Honour at Bilsborrow War Memorial, being part of the Remembrance Service at St Michael's Church, Kirkham and the flag laying at the England v New Zealand Rugby League match at Elland Road in Leeds. What an experience and honour for our young cadets.
KGJS held their own special 100th Anniversary Remembrance Assembly, in which Reverend Bunday spoke to the children about his great grandfather's experience of war before the whole school fell quiet for a minute's silence. The Last Post was played by KGS Second Year pupil, Oscar and the Head Boy, Alexander , Head Girl, Leoma and Senior Prefects, Rowan and Trishala read beautifully during the assembly.
The Pre-School children also learnt about Remembrance and why we wear poppies. They watched an award-winning short animation about remembrance and made poppies out of plastic bottles to create a remembrance tree.
Remembrance Services