19 September 2018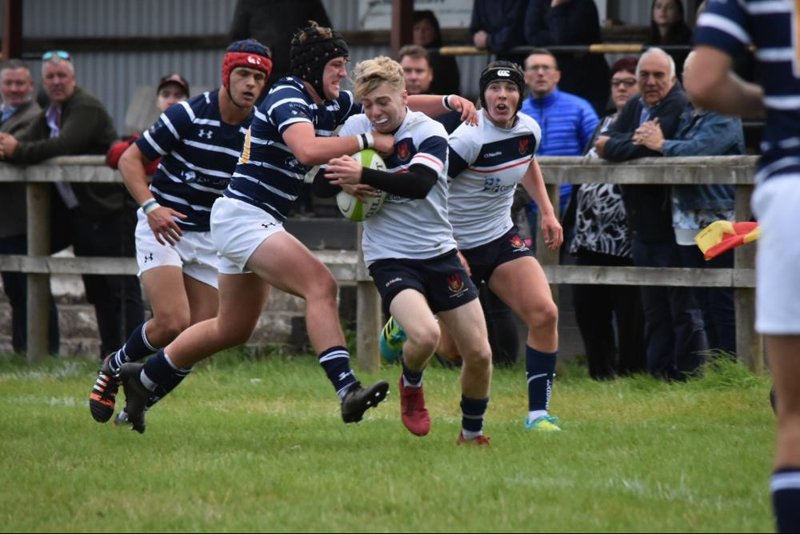 September 7th: 1st XV v Llandovery College
After a successful tour of New Zealand and a promising pre-season, Kirkham Grammar School 1st XV opened their season against renowned top Welsh Rugby School, Llandovery College . New Captain Daniel K was very influential in his team's performance and a number of points. However, star of the show was Vice-Captain Evan P who scored a handful of tries, as did powerful winger Tom G and Kirkham played some excellent rugby to comfortably beat Llandovery. Key to the success was the solid scrum with Cam W and Vittorio B in good form and some powerful running from back row forwards Ollie L and Ethan C. After this positive start, Kirkham now look forward to some huge encounters against some top schools this season.
Saturday 8th September: Headmaster's 2nd XV KGS v Crossley Heath
GS WON 24 -12
The 2nd XV overcame a highly combative Crossley Heath side in appalling conditions scoring four tries in the process. Will G opened the scoring after a quick tap penalty to give Kirkham a 7-0 lead. However, for the rest of the half, the game became a little stop/start as the conditions put paid to any flowing rugby. The Kirkham line-out functioned well, considering the slippery ball, which allowed Kirkham some dominance, with the back three of Spence, Callow and Simcock looking threatening. Kirkham scored again before half-time through Cruickshanks to make the score 12-0.
The second period saw the try of the game as Will, from a quick tap on the 22, fed Harrison R who with a perfectly timed pass, released Spence who ghosted past the last defender with ease from 50 metres out. The last Kirkham try by Spence made it look as though the hosts would surge further ahead, however two sin bins in quick succession meant Kirkham went down to 13 men. This proved costly and although Kirkham defended resolutely, two tries resulted in the lack of numbers in defence. Overall a superb result for the Headmaster`s XV who showed much promise and certainly no little talent.
KGS U15 v Crossley Heath Saturday 8th September
WON 59-7
Kirkham scored two early tries through Tobias P and Joseph M, both successfully converted by Vice-Captain Aaron P. Crossley Heath worked hard in defence to slow down the KGS free flowing attack and eventually secured a penalty for holding on. This was kicked into the corner and backed up with an effective catch and drive at the lineout. Shortly before half time Tobias Parkinson crossed the line for his second try and the half ended 19-7 to Kirkham.
Kirkham dominated possession in the second half and scored six further tries. Crossley Heath occasionally caused trouble for Kirkham around the breakdown however, they never really posed a threat to the KGS defence. Try scorers in the second half were; Jake M (2), Archie D, Tobias P, Yande N and Aaron P. Aaron also successfully converted five of the second half tries.
KGS U14 v Crossley Heath
WON 41-15
The U14s travelled to Crossley Heath last Saturday and came out of the blocks quickly. However, it was Crossley Heath who took the lead with a well worked try.
Credit to the U14s who showed excellent resilience and hit straight back with James S burrowing down the blindside to score. Charlie added an excellent conversion to take the lead 7-5. Straight from the kick off, Aiden H scored an excellent individual try beating 3 players and he added a second try after some excellent handling from Charlie R and Tom S to take a half time lead of 19-5.
Crossley Heath came back strongly in the second half but excellent defence and work at the breakdown turnovers by Ioan C and Josh S saw Hayward put away again to complete his hat trick just after half time. The home side refused to lie down and scored a couple of tries but Kirkham's superior fitness told in the last third with captain of the day Matthew Wright and Hayward completing the scoring.
Next week, the U14s travel to Wirral for what is always a tough fixture.